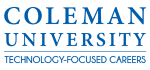 Selected School: Coleman University
Description: 

In 1963 Coleman College was founded on the unprecedented career opportunities that electronic data processing was creating in industry, business, government, and education.




In the 1970s, Coleman responded to an ever-increasing need for inpiduals educated in Information Technology by offering Associate of Science and Bachelor of Science degree programs. These degree programs provided more substantial general and technical knowledge, and benefited graduates in their general education, as well as their ability to advance in technology careers and contribute to their communities.




A general education department was established to offer courses emphasizing English and communication, mathematics, social sciences, humanities, and management. Intermediate and advanced technology courses were also offered. In addition, Coleman implemented its unique "inverted curriculum," which allows students to concentrate on major course work before pursuing general education.




In 1979, the proliferation of computers created the need for inpiduals trained to repair and maintain them. Coleman responded by creating the Department of Computer Technology. This program lead to a certificate in Computer Electronics Technology and served as the core of the Associate and Bachelor degree programs.




In the 1980s, Coleman maintained its leadership role specializing in both information science and computer technology.




In 1982, with the guidance and support of accomplished and visionary industry leaders, a Master of Science degree in Information Systems was developed to provide graduates with the technical knowledge, conceptual understanding, and research skills necessary to function effectively as leaders in their technical professions.




In 1986, while continuing to expand and update curricula, the San Marcos campus was opened to serve growing populations in the northern part of San Diego County.




In 1994, anticipating the need for technicians and administrators of network systems, Coleman developed an interdisciplinary program in computer applications and networks in the Office Automation Systems Department.




In 1996, the Computer Applications and Networks Department began providing extensive training in local area networks and client-server applications, among the fastest growing sectors of the high-tech job market. As computer hardware became more sophisticated, troubleshooting evolved to require a deeper understanding of the total system, including software. The Computer Electronics Technology program was redesigned to reflect this shift in emphasis between hardware and software, and the department was renamed Computer Engineering Technology. Subsequently, the program evolved with industry trends emphasizing network technology and was renamed Computer Network Technology. This program eventually merged with the Computer Applications and Network program and became known as the Computer Networks program.




In 2002, Coleman rounded out its computer-related academic offerings by launching a Computer Graphic Design program.




On November 14, 2008, during the Coleman College 45th anniversary celebration, the transition to Coleman University was announced.




In 2009 Coleman introduced a Master of Business Administration program. The MBA program addresses the needs of students with a technology background who wish to transition into general business and management.




In 2011, Coleman introduced a Master of Business Administration in Health Care Management. The MBA HCM offers students essential tools and insights into the management of today's health care business.




As the field of Computer Network Security has evolved, in 2016, Coleman University officially changed the name of its Network Security program to Cybersecurity.




WASC Senior College and University Commission (WSCUC)

Coleman University has been recognized as a Candidate for Accreditation by WASC Senior College and University Commission. This status is a preliminary preaccreditation affiliation with the Commission awarded within the five year period allowed to achieve Initial Accreditation. Candidacy is an indication that the institution is progressing toward Initial Accreditation. Candidacy is not Accreditation and does not ensure eventual Accreditation.




Accrediting Council for Independent Colleges and Schools (ACICS)

Coleman University is accredited by the Accrediting Council for Independent Colleges and Schools to award Associate's degrees, Bachelor's degrees and Master's degrees.




Bureau of Private Postsecondary Education (BPPE)

Coleman University is a private institution approved to operate by the Bureau of Private Postsecondary Education.
Show more
Tell us about yourself so we can provide helpful info about this school